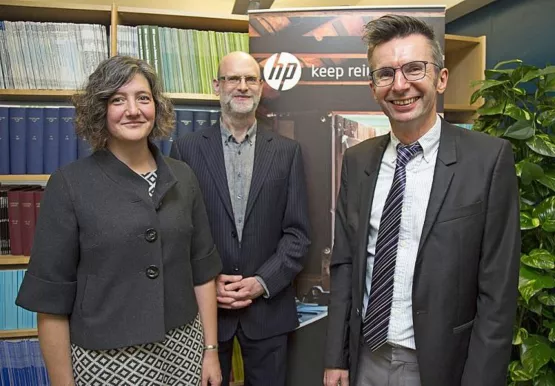 A celebration held November 2nd at the University of Birmingham marked the inauguration of the university's new HP Chair in Cyber Security, the result of a partnership between HP and the university that paves the way for innovative, high impact research into cyber security in the age of the Internet of Things.
The chair's first occupant will be Professor Mark Ryan, an internationally recognized expert in cyber security based in the university's School of Computer Science. Ryan's Security and Privacy research group is one of the most respected cyber security research groups in the UK and has been named an EPSRC/GCHQ Academic Centre of Excellence in Cyber Security Research.
HP's partnership with the University of Birmingham supports the UK Government's CyberInvest initiative and is part of the company's global commitment to address the world's most pressing cyber security challenges, explained Simon Shiu, Director of HP's Security Lab.
"Increasing pervasiveness of technology means cyber security will become only more important and challenging. It is a top priority to invest now in research and partnerships to address this issue," Shu said. "Academia, business, and government each have different contexts, experiences, and skillsets. It is essential for us to work together if we're to address our shared future cyber security challenges successfully. This new Chair is a critical step forward."
A major focus for Ryan's research group is security for networks of endpoint devices, be they sophisticated laptops, PC's, or phones, or low cost sensors located in spaces as varied as factories, farms, automobiles, and homes.
As an endpoint device infrastructure company, HP also sees device security as a critical issue, noted Shiu. HP's support, he suggested, will help focus the Birmingham group's academic research on areas with the greatest potential to make a positive impact on the industry as it evolves.  
"The Internet of Things is going to bring a new wave of innovation, affecting how the physical world and the digital world interact," added Ryan. "Figuring out how to support privacy and security for users in this setting is a huge task. This research chair is a great opportunity to work with a company that can complement the skills of academics and help bring theoretical ideas into practical reality."