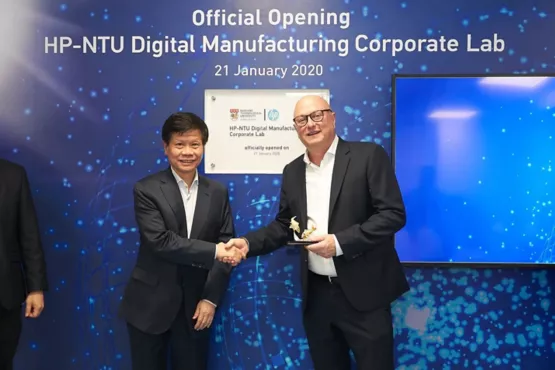 In a ceremony held January 21st on the campus of Nanyang Technological University (NTU Singapore), HP Inc. and NTU Singapore officially opened the HP-NTU Digital Manufacturing Lab. The research facility – a joint venture between HP Labs, NTU Singapore, and Singapore's National Research Foundation (NRF) – is HP's fifth major research laboratory, its first headquartered in Asia, and represents HP's largest research collaboration with any university worldwide.
The HP-NTU Digital Manufacturing Lab focuses on advancing the innovation, technologies, and skills required to support a new era of digital manufacturing, also known as the Fourth Industrial Revolution, or Industry 4.0. It builds on HP's long presence in Singapore and NTU's strength as a global leader in manufacturing, engineering, and artificial intelligence research.
The January 21st opening, held in the lab's new facility within the NTU School of Mechanical Engineering and Aerospace, was attended by senior leaders from HP, the NRF, NTU Singapore, and regional business and civic institutions. After remarks from NTU Singapore Senior Vice President (Research), Professor Lam Khin Yong and Shane Wall, HP Chief Technology Officer and Global Head of HP Labs, lab researchers showcased a variety new digital manufacturing technologies set to make manufacturing and supply chain operations more efficient, cost-effective, and sustainable. These included intelligent design software tools that automate advanced customization and supply chain models that enable faster time-to-market while lowering carbon footprints.
"HP's passion for innovation, together with NTU's world-class research capabilities, allow us to achieve new breakthroughs and unlock new solutions for both business and society," noted HP CTO Wall at the event. "Our joint work in 3D printing, AI, machine learning, security, and sustainability will produce disruptive technologies that define the future of manufacturing."