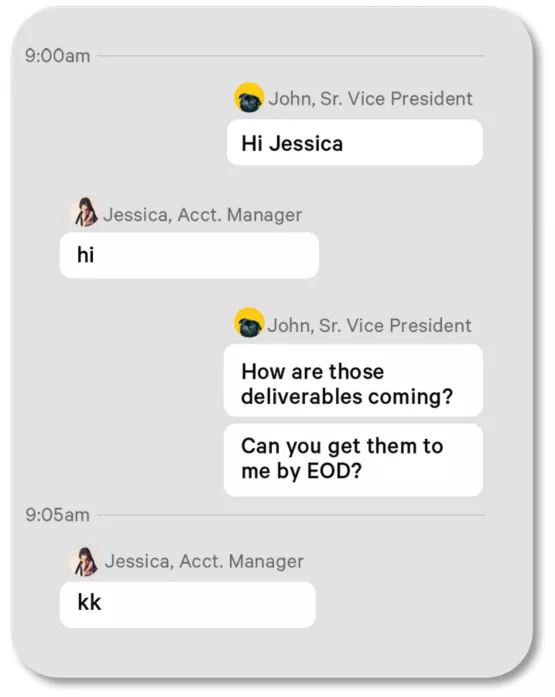 Does this type of exchange at work look familiar to you? Perhaps something you'd send or receive on Slack or Teams instead of email? Does it feel too brief to you? And what about the double ks? Too informal? 
If you feel ambivalent about those questions, you're not alone. Stephen Connolly, a writer at Interact Software, a company that provides intranet products for enterprises, was recently chatting with a younger colleague about how 20-somethings communicate. Connolly, 41, left the conversation a little bewildered. First off, his Gen Z coworker had explained, his use of email is aggressively formal.
This was news to Connolly.
So is his form of "okay" in his communications. "Apparently, there are multiple ways to write 'okay,' from uppercase ('OK') to lowercase ('kk' or 'k') to lowercase and punctuated ('ok.')," he says. If you get a text from a Gen Zer that uses that latter form, with a period, you're in trouble. But "kk" is much more congenial and warm.
Connolly's experience is just one example of how having a digital conversation can be an exercise in code breaking. Our reliance on an ever-evolving rotation of platforms combined with differing intergenerational communication styles poses a critical question: How do we learn to speak the same digital language?
Four generations, one Slack channel
Thanks to a confluence of factors — the explosion of social platforms like TikTok and others during the pandemic, a near-overnight shift to remote work, and the entry of Gen Z into the workforce — the Venn diagram overlap of internet-speak and workplace banter has expanded in recent years. With four generations now working together — including Gen Z and millennial digital natives who are accustomed to getting their point across in online realms — opportunities for communication misfires abound.
Teams that once relied on in-person meetings and desk drop-bys have largely transitioned to digital channels like Slack and Microsoft Teams. With a lack of face-to-face meetings, eye contact, and body language, what we type has to do a lot more heavy lifting when it comes to communicating our attitudes, subtext, and office mores. Like that period.
"The pandemic has pushed the evolution of workplace communications into an accelerated state because companies are not only transforming, they're also transforming how they work," says Allison Hemming, CEO of talent agency The Hired Guns. Data backs this up: In a recent survey, Slack found that more than half of IT decision makers said they think email will be replaced as their organization's primary communications tool by 2024.