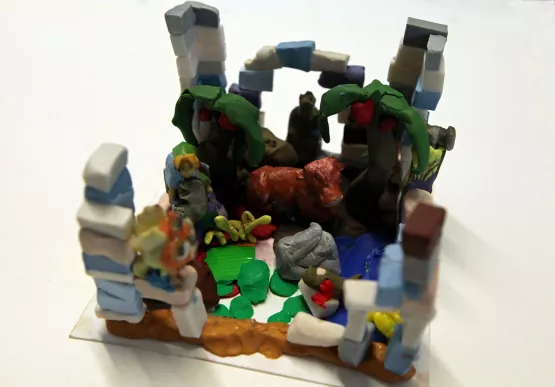 Zachary Ziebell joins HP Labs on a rare winter internship this month and next. A dual fifth-year senior at the Rhode Island School of Design (RISD) and Brown University, Ziebell is majoring in both painting and symbolic systems, which combines computer science, cognitive science, and philosophy. He grew up outside San Antonio, Texas and in his spare time enjoys drawing, painting, and hiking.
HP: What are you working on during your internship?
I'm working on two projects in the Immersive Experiences Lab. The first continues some work I've been doing with a medical student at Brown. He was looking for a way to make a high-resolution mold of a brain that we could use to cast high quality, affordable gelatin brains. These have the density of actual brains and can be used for things like modeling concussive impacts or as demos for surgical students to practice on. So over the summer we scanned a brain and here I've been trying to work out how to make a high quality 3D printed mold from it.
HP: What's the big challenge there?
Because of the unique folds inside the brain, it's very difficult to create a mold where you don't destroy the "brain" when you remove it. We also want to model some interior structures of the brain such as the ventricles which come out from the base, something people haven't been able to do so far in an affordable way. Our second version of the mold is being printed right now on a state-of-the-art HP 3D printer, so I'm excited to see how it comes out.
HP: How about your other project?
I've been using 3D printers over the last few years to make things like nostalgic video game characters and then combining them with jewelry and other materials. People seem really into it, so I'm now trying to establish a theoretical basis for why these creations are appealing. My thesis essentially proposes that just as photography changed our ideas about what deserves to be made into an image, so multicolored, multi-material 3D printing combined with techniques like 3D scanning and neural networking are changing our notions of what material aesthetic objects can and should be.