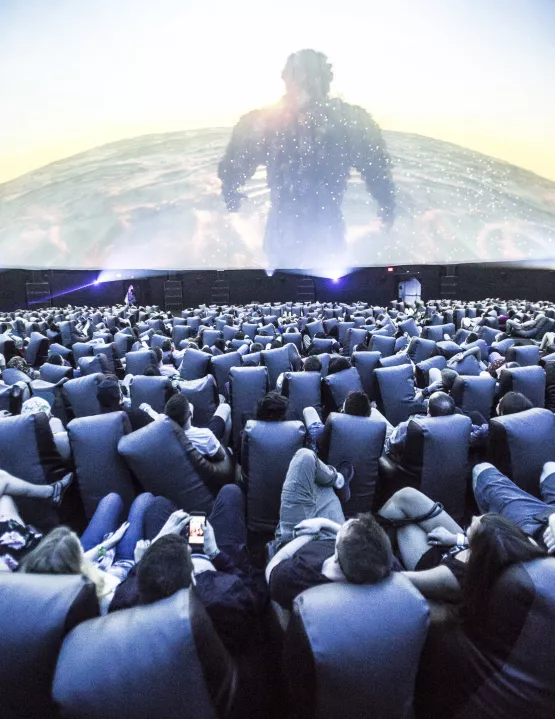 Amid the blazing desert heat and endless dust of the Coachella Valley Music & Arts Festival in Indio, Calif., rises a massive, 11,000-square-foot steel-and-vinyl dome that looks like something out of Star Wars.
Stepping into the chilled, pitch-black relief of HP's Antarctic Dome — the largest geodesic projection dome in the world — festivalgoers immediately feel as though they've embarked on a welcome journey with 499 friends. With its 108 speakers, 15 projectors and 500 air-mattress reclining chairs that let viewers take in as much of the 360-degree visuals as possible, the Antarctic Dome is both a movie theater and a roller-coaster ride.
For its debut last year, a show called Chrysalis immersed viewers deeply into the metamorphosis of a caterpillar.
This year's first visual is a reimagining of Edwin A. Abbott's 19th century novella Flatland: A Romance in Many Dimensions. St. Vincent's musical score, by turns delicate and discordant, builds to a crescendo before the bass drops out over a swirling, stacking and crumbling landscape art-directed by artists Dev Harlan, Sougwen and VolvoxLabs and directed by META's Justin Bolognino. As the second visual, Abstraction, soundtracked by ODESZA's bright and hopeful "A Moment Apart," cues up, the entire audience seems to hold its breath, wondering what could possibly top the first piece.
"HP's Antarctic Dome is a must-see for anyone at the festival," says ODESZA.